An official and CDTV-branded promotional item from Commodore that was announced towards the end of CDTV's short life, was only offered to CDTV dealers, possibly never even saw a release, and was discovered in 2017 in a barn. Sounds obscure enough? Let's have a look at the wonderful CDTV Title Display!
The CDTV Title Display is a special item that Commodore originally planned to make available exclusively to official CDTV resellers in North America back in 1992. It's an acrylic display case that holds a total of 63 jewel case CDTV titles, but you can also reconfigure it to display a combination of jewel case titles and long box titles. As it was offered to CDTV resellers only, the CDTV Title Display's primary intended use would have been as a display in a store or in similar promotional settings. Here is a photo of the display in all its glory: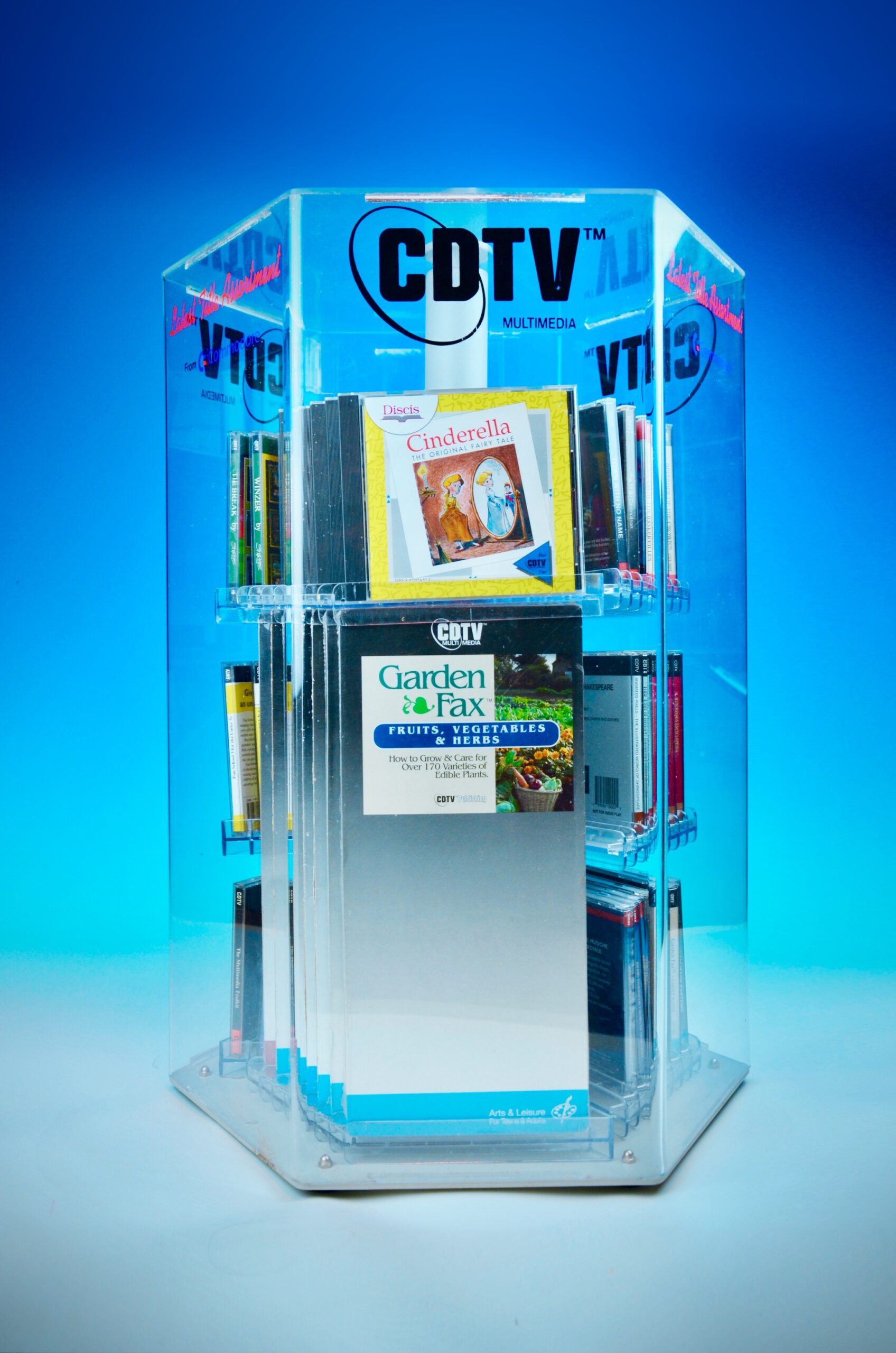 Although the CDTV Title Display was announced in a mailing to CDTV dealers in May 1992, it's quite possible that it never progressed beyond the prototype stage, because of its awkward timing, right at the end of CDTV's very short and ill-fated life, and due to disastrously low sales of CDTV players in North America. But before we dive into the provenance of this item, let's have a proper look at it.
Characteristics
The CDTV Title Display is a whopping 60 centimeters tall (23.5 inches), weighs about 5 kilos (11 pounds) and takes the shape of an acrylic hexagon cylinder with a pole in the middle made of hard plastic. To this pole are attached 3 levels of 3 removable acrylic display trays that can each hold 7 CDTV titles (3x3x7 = 63 titles). There's a door on the back of the display with a simple lock on it to prevent opportunity theft. The pole in the center of the display can be rotated to ease the process of adding or removing CDTV Titles to or from the display.
Top view of the CDTV Title Display
The 6 sides of the CDTV Title Display carry alternating prints of the CDTV logo and the text "Latest Title Assortment From Commodore". The display carries a sticker on the back with the name Chemcast on it, which is the brand of a Mexican company called Plastiglas de Mexico S.A. de C.V., which was most likely the manufacturer of the case. The name Chemcast is still used today and the logo still looks the same!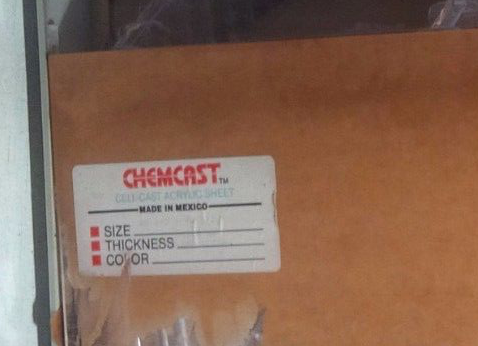 Prototype
So, there's no doubt that this title display was intended to be an official promotional item from Commodore, because a photograph of the display was discovered in a mailing from Commodore Business Machines Ltd (Canada) that was sent to Canadian CDTV dealers in May 1992.1 The display could be ordered directly through Commodore and I suspect US CDTV dealers may have received a similar offer from Commodore USA.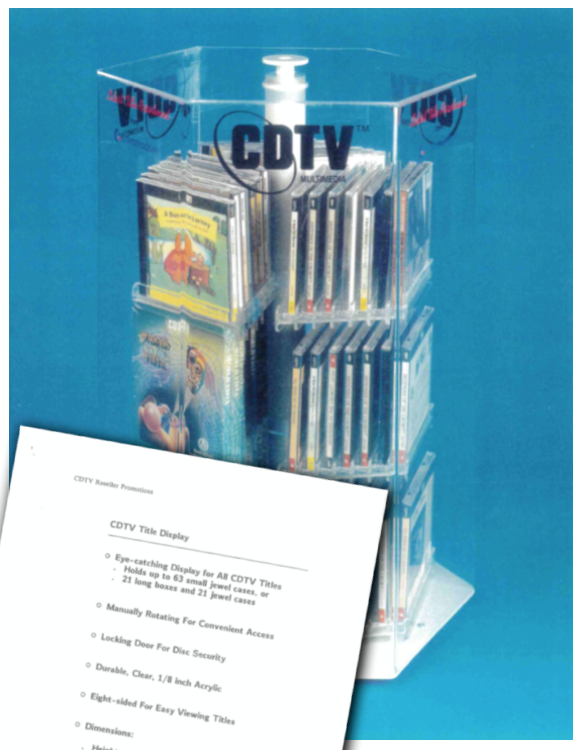 The display that is featured in all the other photos in this article was a barn find(!) in New Jersey, USA and according to the seller it's a prototype and "only a few were made". A total of 3 displays were found. Two were thrown around unprotected and presumably damaged beyond repair and even had raccoons and mice living inside! The last one was still in its protective packaging and was the only one that survived. That's the one that was saved and is currently in my collection, and is what you see in these photographs.
When comparing my specific CDTV Title Display to the one featured in the CDTV Reseller Promo mailing I see various minor differences. The alignment of the word "Multimedia" under the CDTV logo is slightly different between the two. On my display it's not aligned properly with the CDTV logo above it, while it looks a lot better on the one in the mailing. The word "from" has also been moved above the Commodore logo in the reseller promo, while my display has it in front of the Commodore logo. It has also been changed to all lower case, which makes more sense grammatically. Also, both the pole and base are white in the mailing photo, while mine is more off-white (towards grey even), and the bolts in the base are arranged differently. The Title Display in the mailing photo could be a production item or even just another prototype revision, but I am reasonably convinced it was a later design due to the improvements when compared to my particular display.
Showing both prints from the side
In all honesty, I have no way to prove or disprove whether this CDTV Title Display is a prototype or whether it was ever manufactured in any production quantities, because I only have the seller's word to go by and in all my years of CDTV collecting I have never seen one before or since. But there are circumstancial facts that give credence to his claim. The most obvious one is the timing of the offer. It was part of a mailing that went out in May 1992 and by that time CDTV was seriously in trouble. Hardware sales were disastrously low worldwide and the North American CDTV sales figures were some of the worst with just a few thousand CDTV player units sold for the whole of the US3 and the platform being pronounced an utter failure.
It seems highly unlikely to me that many North American CDTV dealers were jumping at the opportunity to spend $375 CAD + taxes + shipping for the privilege of owning a title display for a platform that sold just a few thousand players in more than one year of being on the North American market. Additionally, not long after this mailing I believe that Commodore all but pulled the plug on CDTV4 and it is against this background that I can easily imagine Commodore receiving close to zero orders from dealers for the CDTV Title Display, way too little to justify a production run, and finally opting not to produce the damn thing at all beyond the handful of test shot specimens that were provided to them by the manufacturer.
"Latest Title Assortment from Commodore"
I have reached out to multiple sales representatives of the aforementioned Mexican company Plastiglas that produced this display in the off chance that they have some information about it, but I sincerely doubt they will have any records of this 30 year old item. If they do and they get back to me, I will of course update this article. But they probably won't and will think I am an idiot.
Mice and Raccoons
Rarity aside, the CDTV Title Display is a great looking display and I am very grateful it somehow survived all these years and that it made the transatlantic trip from the US to the Netherlands safely with just very minor damage. It's a piece of CDTV history that thankfully has been saved and I'm happy to finally share the existence of this thing with you. If anyone else has one (or seen one) do get in touch with me, because I would love to hear about it! (Contact details in the About page).
Thanks for reading and see you back soon!
Footnotes